Welcome to the The Naked Gun
The Naked Gun is a series of American crime comedy films based on their earlier short-lived ABC television series Police Squad!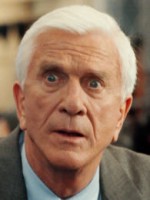 Frank Drebin is a member of Police Squad, a special department of the police force, where he served for many years. He is known for being a bumbling fool, causing lots of problems and trouble for those around them, but being entirely oblivious to it all.
He works alongside police Captain Ed Hocken (Alan North/George Kennedy) and Nordberg (Peter Lupus/O.J. Simpson) and the trio generally work as a team. He and Ted Olson (Scientist) are the only characters that appeared in both Police Squad! and The Naked Gun films and were portrayed by the same actor... more